The experience of physical and mental stress certainly takes a toll on your health as well as body. While people certainly recommend treatment options such as therapy, meditation and self-care, there are tools one can turn to, to relieve stress and anxiety. These tools are commonly known as 'Stress Relief Toys'.
Concept of Stress Relief Toys-
Often directed towards children, stress toys are handheld tools made to help users decrease stress through small movements that cater to five senses in your body.
Individuals experiencing stress or anxiety may often fidget or make small movements when they are feeling anxious, restless, impatient or nervous. Stress toys give these small movements an outlet, which can help calm a person's nerves, relieve stress and serve as a distraction in an overwhelming environment. The toy helps pull the user's attention away from any particular stressful thought or situation and provides a temporary form of relief.
There are different kinds of Stress Relief Toys. Some of them include-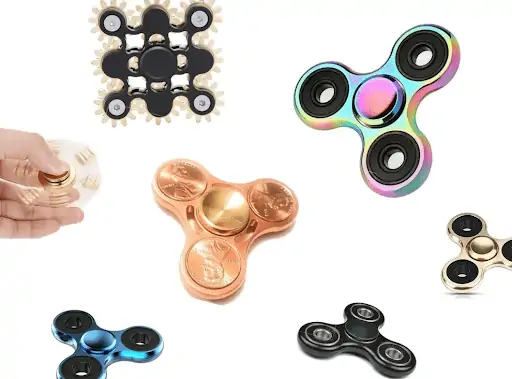 A fidget spinner is a toy that consists of a ball bearing in the center of a typically two or three flat structure made from metal or plastic enabling it to spin along its axis with pressure (Calfas).
The toy has been promoted as helping people who have trouble focusing or those who may need to fidget to relieve nervous energy, anxiety, or psychological stress. There are claims that a fidget spinner can help calm down people who have anxiety or neurodivergences, like ADHD and autism (McGri).
A stress ball or commonly known as a hand exercise ball – is a malleable toy, at maximum 7 cm in diameter, which is squeezed in the hand and manipulated by the fingers, in order to relieve stress and muscle tension or to exercise the muscles of the hand. Despite the name, many stress balls are not spherical. Some are moulded in amusing shapes.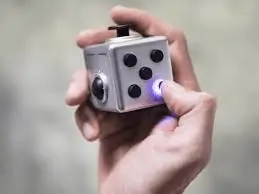 The fidget cube has fidget tools on all sides: a switch, gears, a rolling ball (marble), a joystick, a spinning disk, a worry stone, and five buttons.
The clicking, spinning, and twirling children and adults can do with fidget spinners and cubes helps to keep hands busy and provide a distraction or sensory stimulation for those with specific mental health issues.
The Tangle is a popular fidget toy for classrooms and other quiet environments because it doesn't produce noise. It includes connected, curving pieces you can reshape, take apart, twist, and put back together. It can benefit children and adults alike. Children may find the toy entertaining and soothing. It may promote relaxation or stress relief in teens and older adults.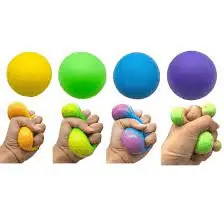 Also called stress-relief dough, adult play dough is pretty similar to the stuff one played with as a kid. However, this option from The Squeeze is infused with 100-percent lavender essential oil, which can help promote feelings of calmness.
The benefits of this are twofold: Squeezing and kneading the dough may help reduce stress and anxiety, similar to the way a stress ball works, while the lavender helps soothe through aromatherapy.
The indian market for stress relief toys-
Stress reliever toys are largely and easily available on many online platforms in India. Though there is not much scientific research on the use and benefits of these toys, they are more commonly being used by all age groups to deal with specific mental health conditions and momentarily release their symptoms of stress and anxiety to help them focus better.
Conscious use of stress relief toys is a must-
Though stress relief toys are becoming increasingly popular and are being used ever so often these days, it should be noted that they are just an added tool to help deal with anxiety and stress. Moreover, these tools cannot be considered as a replacement for therapy or any other long term treatment plans.
Sources–